PH Meter
TES-1380K
PH / ORP / Temperature Meter
Product Features
0.001 pH resolution.
Auto / Manual pH & Temperature Calibration.
Auto / Manual Temperature Compensation.
Auto-recognition of buffer solutions.
A for one time test and continuous test.
Display pH or mV with temperature Simultaneously.
Fast & Easy pH measurement.
Dual way RS-232 interface with software.
Single recording: 99 records.
Continuous recording: Have 99 sets of records, MAX. 3000 points.
Indication of pH Electrode status.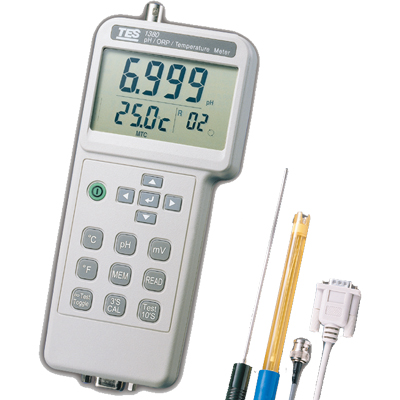 Display

4 1/2 digital LCD display

Measurement Range

pH - 0 ~ 14 pH
mV - 0 ~2000mV
Temp - 0 °C~ 100 °C(32 °F ~ 200 °F)

Resolution

pH - 0.001 pH
mV - 0 .1 mV
Temp - 0.1 °C ( 0.1°F)

Accuracy

pH - ±0.01 pH
mV - ± (0.05% + 1d)
Temp - ± 0.5 °C ( 0.9 °F)

Calibration date

Record the last data of adjustment

Data output

RS232 PC serial interface (Dual-way)

Operating / Storage Temp & Humidity

0°C to 50°C < 80%RH / -10°C to 60°C< 70% RH

Power Supply & Battery Life

"AA"-1.5V x 6 [Approx. 120 hours ]

Dimensions & Weight

187(L)×73(W)×53(H)mm & 320g (7.58oz)

Memory recall

Single recording : 99 records.

Continuous recording : Have 99 sets of records, MAX. 3000 points.

Applications

Stains, Lotion, Chemical, Brew, Bacteriology, Filthy water, Pulp, Pharmacy, Ferment, Electroplate, Drink, Aquaculture etc.

Accessories

Carrying case, Instruction manual, Software, Batteries, RS-232 Cable.

Optional Accessories

BS4 - pH4 buffer solution

BS7 - pH7 buffer solution

PH-200 - pH electrode

PT-100 - Temperature probe