CO/ CO₂ Tester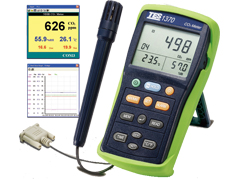 TES-1370
CO2: 0 ~ 6,000 ppm range, Diffusion sampling mode.
Three LCD Display for CO2 , %RH Humidity and
Air Temperature.
Maintenance free dual wavelength NDIR infrared
CO2 sensor (non-dispersive infrared).
Continuous or manual data logging (16,000 sets).
Data hold & Maximum / Minimum with Time stamp.
Data Memory and READ function.
Alarm and Time setting.
RS-232 function / Software.
Backlight display function.
Simple and safe to use.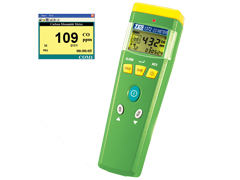 TES-1372 / TES-1372R
CO : 0 ~ 999 ppm range.
MAX Hold with Time stamp.
Alarm level setting.
Replaceable sensor extends meter life.
Stabilized electrochemical CO sensor.
Automatic sensor zeroing upon start-up.
Auto power-off time setting.
Typical three year sensor life,
one year calibration cycle.
Manual data memory and read function (99 sets).
Auto data memory and read function (999 sets).
Auto Datalogger (11340 sets) and
RS232 PC interface. (1372R)
Backlight display function.

Specification changes subject without notice.