Humidity Temperature Meter
TES-1369B
Heat Stress Monitor
Product Features
Datalogging area thermal environment monitor.
Quick WBGT measurement for assessing
environmental heat stress.
Air velocity measurement.
Maximum / Minimum recording reading.
Auto datalogging.
Manual Data Memory Capacity.
Data hold function.
Auto power off.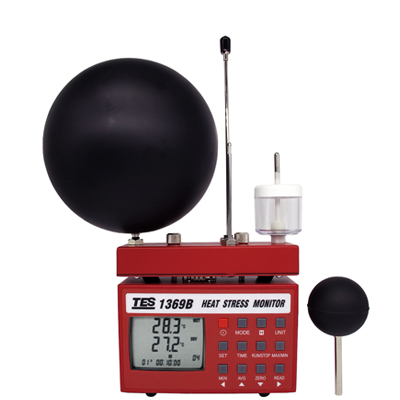 Measurements

Globe, Dry bulb, Wet bulb Temperature and Air velocity.

Measurement computed

WBGTin, WBGTout, Heat Index and Wind Chill Temperature.

Temperature measurement

Sensor : NTC thermistor

Range : -5°C to +100°C (23°F to 212°F)

Resolution : 0.1°C / 0.1°F

Accuracy : ±0.5°C / ±0.9°F

Airflow measurement

Sensor : Heated RTD

Range : 0 ~ 20m/s

Resolution : 0.1m/s

Accuracy : ±(4% reading + 0.1m/s)

Memory capacity

Manual : 99 sets

Auto : 65000 sets

Operating conditions

-5°C to +60°C (23°F to 140°F) , 0%RH to 100%RH
(Non-condensation)

Power source

One pcs 9V alkaline battery or 9V AC adapter.

Battery life

Approx. 8 hours

Size

221(H) × 154(W) × 53(D)mm

Weight

Approx. 1000g

Accessories

Instruction manual, Battery,

Carrying case,

RS-232 cable, CD software, 10 meters sensor cable, 6 inch diameter globe, 2 inch diameter globe.
礦場:煤礦場、石油礦場、金礦場...等
提煉場:石化工業、鋼廠、鋁廠...等
製造場:玻璃廠、造船廠、磚廠、水泥廠...等