Light Meter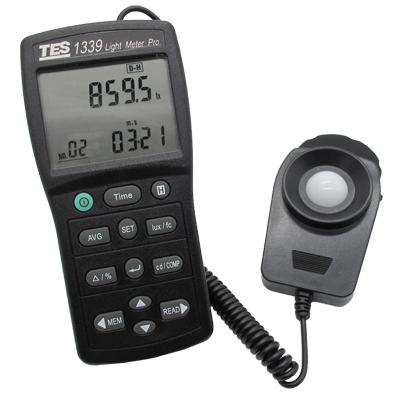 TES-1339
Light Meter Pro.
Product Features
Spectral correction factor function (include LED)
User calibration function (CAL)
Dual Display, 4-digit LCD reading.
Spectral Sensitivity close to CIE photopic Curve.
Measuring Levels Ranging 0.01 to 999900 Lux,
0.01 to 92920 fc, Autoranging 5 step.
Accurate and Instant response.
Integral illuminance measurement.
Luminous intensity measurement.
Data Hold function.
Data memory and read function.
Reference value setting for relative or percentage
deviation measurement.
Ripple measurement for STRAY + LIGHT function.
Time-hold function.
Point - average function.
Comparator function.
Auto power off function.
Display

Dual display 4 digit LCD read out.

Measuring Range

99.99, 999.9, 9999, 99990, 999900 Lux
9.292, 92.92, 929.2, 9292, 92920 fc
Auto rangeing (5 step) (1 fc = 10.76 Lux)

Overrange Display

OL is displayed

Resolution

0.01 Lux, 0.001 fc

Accuracy

±3% rdg ±5dgt (Calibrated to standard
incandescent lamp, 2856 Κ)

CIE photopic f '1

≦6%

Temperature Characteristics

±0.1%/°C

Measuring Rate

Approximately 5 time/sec

Photosensor

Silicon photodiodes

Data Memory Capacity

50 sets. (Direct reading from LCD display)

Operating / Storage Conditions

0°C~ 40°C<80% RH / -10°C ~ 50°C <70%RH

Power Source

6 pcs AAA size Battery

Battery Life (typical)

100 hours

Photosensor Lead Length

150 cm (approx.)

Photosensor Dimensions

92(L) ×60(W) ×29(H)mm

Dimension

150(L) ×72(W) ×35(H)mm

Weight

320g

Accessories

Carrying case, Instruction manual, Battery