Particle Counter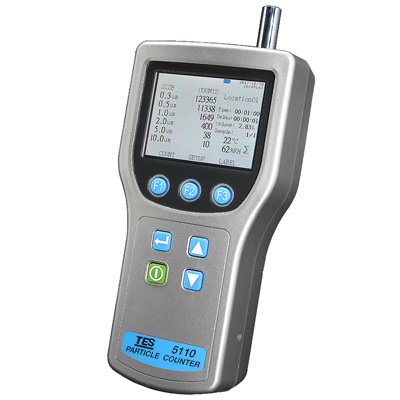 TES-5110
Particle Counter
Product Features
Six particle size channels : 0.3μm, 0.5μm, 1.0μm, 2.0μm, 5.0μm, 10μm
Integrated temperature / humidity sensor (no need for external add-on).
Flow rate 2.83 L/minute (0.1 CF / minute).
Rechargeable battery provides up to 4 hours of continuous operation (charge time 2.5 hours).
Buffer function allows storing and redisplay of up to 500 measurement data sets.
SD storage device.
SPECIFICATIONS
Optical system

Sideway light-scattering method

Light source

Laser diode

Laser product class

Class 1, IEC 60825-1 / EN 60825-1

Sample flow rate

2.83 L / min

Particle size (6 channels)

0.3μm, 0.5μm, 1.0μm, 2.0μm, 5.0μm, 10μm

Counting Efficiency

50% @0.3μm; 100% for particles > 0.45μm (per JIS B9921:1997)

Relative Humidity

±7%, 20% to 90% non-condensing

Temperature

±3°C, 10°C to 40°C (50°F to 104°F)

Maximum particle concentration

70,000 particles / L (coincidence loss max. 5%)

Measurement time

6 s. (0.01CF), 21 s. (1 L), 1 min. (0.1 CF, 2.83 L), 3 min. 32 s (10L), 10 min. (1 CF, 28.3L), any length (MANUAL), any length (1 s. to 59 min. 59 s.)

Buffer function

Store and recall values for up to 500 measurements

PC interface

USB interface

Temperature / humidity

measurable range

10°C

to 40°C, 20% to 90%RH (approximate)

Power requirements

Built-in battery or AC adapter

Battery

Rechargeable Lithium-ion (Li-ion) battery.

Charged from supplied AC adapter when power is ON (charge time 2.5 hours).

AC adapter

Output voltage : DC12V, 3A

Dimensions and weight

218(L)

×

110(W)

×

67(H)mm / Approx. 875g

Supplied Accessories

Instruction manual, AC adapter, Power cord, USB cable, Zero count filter, Hardshell carrying case.
qMonitoring clean-rooms, manufacturing processes and pharmaceutical production.
qIndoor Air Quality (IAQ) monitoring.
q Monitoring gowning rooms.
q Testing filter seals.
q Locating particle contamination sources.
q Monitoring particle size distributions.