Power Supply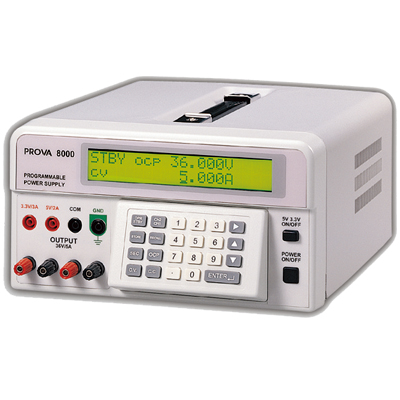 PROVA-8000
Programmable DC Power Supply
Product Features
40VDC/5ADC wide range output.
Switching technology, analog quality.
1+2 output 200W.
1 programmable output (0-40V/0-5A), 2 fixed outputs (5V/2A and 3.3V/3A).
High resolution (1mV, 1mA), high stability and low drift.
Low noise and ripple (3mVrms and 3mArms)
Over voltage protection (OVP), and over current protection (OCP).
OCP with programmable timer (0.01 – 600 seconds).
200 sets of memory (V, A,SECONDS).
Easy RECALL and STORE functions.
Auto-Step function with programmable interval.
STANDBY/OPERATE button.
Dual sets of output terminals enable monitoring output voltage during operation.
Built-in buzzer alarm.
Electrical Specifications: (23℃±5℃)
Programmed Voltage and Current: (5 minutes after power on)
| | | | | |
| --- | --- | --- | --- | --- |
| | Range | Resolution | Accuracy | Comments |
| Voltage V (C.V.) | 0 – 40V | 1mV | 0.05% ± 9mV | Typical ± 5mV |
| Current A (C.C.) | 0 – 5A | 1mA | 0.2% ± 9mA | Typical ± 5mA |
C.V.: Constant Voltage, C.C.: Constant Current
Voltage/Current Read Back Accuracy:
| | | | |
| --- | --- | --- | --- |
| | Range | Resolution | Accuracy |
| Voltage V (C.V.) | 0.1 – 40V | 1mV | 0.1% ± 12mV |
| Current A (C.C.) | 0.05 – 5A | 1mA | 0.2% ± 12mA |
C.V.: Constant Voltage, C.C.: Constant Current
General Specifications:
Load Regulation:

1mV/A

Line Regulation:

No effect if line voltage falls within 90V to 130V for 115V nominal, 200V to 240V for 230V nominal.

Fixed 5V / 2A Accuracy:

5V ±0.25V

Fixed 3.3V / 3A Accuracy:

3.3V ±0.16V

:

When 5V or 3.3V output is less than 1V (shorted), the corresponding symbol will be shown in LCD to warn the users.

Ripple and Noise (0 ~ 40V, 0 ~ 5A):

< 3mVrms (C.V.), typical 1mVrms

Ripple and Noise (0 ~ 40V, 0 ~ 5A):

< 3mArms (C.C.), typical 1mArms

Ripple and Noise (5V/2A, 3.3V/3A):

10mVrms ~ 20mVrms, 10mArms ~20mArms

Temperature Coefficient:

< 100ppm/°C

OCP detection:

Current A > 0.05A

C.V. or C.C. Detect and Display:

Current > 0.05A

Power Source:

115V (90V to 130V) or

230V (200V to 240V)

Accessories:

Power cord x 1

Users manual x 1

Testing leads (alligator clips) x 1 set

Testing leads (double-side banana heads) x 1 set

USB cable x 1

CD (USB driver) x 1

Dimensions:

310mm x 250mm x 133 mm

12.2" x 9.8" x 5.2"

Weight:

3.8kg

(8.4lbs)