Particle Counter
TES-5321 / TES-5322
PM2.5 Air Quality Monitor (Real time)
Product Features
Instant to respond PM2.5 value on the LCD display
Monitoring air pollutant source from dust, petrochemical industry, steel-making plant, thermal power plant, restaurant, smoke, burning plants, driving automobiles.
Fine particulate matter (PM2.5)、Temperature and Humidity measurement.(5321/5322)
USB Interface/Auto data logger function.(5322)
Mix gases (VOCs-Volatile organic compounds)    measurement.
High sensitivity to H2, C2H5OH, C4H10, CO and CH4. (5322)
The meter is a real-time air quality monitor instrument used to monitor the concentration of PM2.5, humidity and temperature in the indoor environment.
Health index (0 ~ 9) detection and alarm.
PM2.5 time weighted average reading.
VOCs time weighted average reading. (5322)
Data hold and MAX/MIN with time stamp function.
Six-color LED indication Air Quality Index Category.
Preset warning point of buzzer alarm, LED and alarm output.
Manual data memory and read function.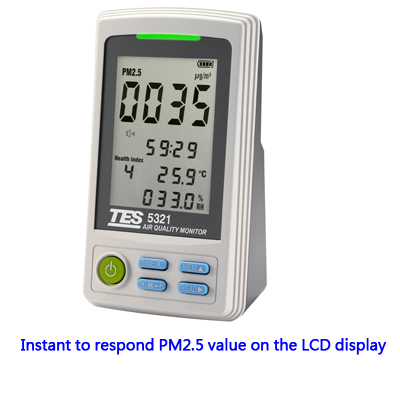 Air Pollution Regulation

WHO

European

Union

USA

Canada

Australia

Japan

South

Korea

Hong

Kong

China

Thailand

Taiwan

IT-1

IT-2

IT-3

AQG

United

States

California

Class1

Class2

PM2.5

mg/m3

Yearly average

35

25

15

10

25

12

12

-

8

15

-

35

15

35

25

15

Daily average

(24-hour)

75

50

37.5

25

-

35

-

30

25

35

-

75

35

75

50

35
SPECIFICATIONS
Measurement

Range

PM2.5 : 0 to 500mg/m3

VOCs : 0 to 50ppm (5322)

Humidity : 1% to 99%R.H.

Temperature : -20℃ to +60℃ (-4℉ to +140℉)

Resolution

1mg/m3, 1ppm, 0.1% R.H., 0.1℃, 0.1℉

Accuracy

PM2.5 : ≦50mg: ±5mg

>50mg: ±10% of reading

VOCs : ±10% of reading±1ppm (5322)

Temperature : ±0.8℃, ±1.5℉

Humidity : ±3%RH (at 25℃, 30 to 80% RH).

±5%RH (at 25℃, 0 to 20% RH and 80 to 100% RH).

Response time

PM2.5 : ≦1min

Humidity : 45%R.H. to 95% R.H. ≦1min

95%R.H. to 45%R.H. ≦3min

Temperature : 10℃/2 sec.

Sampling rate

1 sample/second.

Data Memory Capacity

39 sets. (Direct reading from LCD display)

Data Logger Capacity

microSD CARD 4GB (5322)

Alarm Output

Open-collect output. Input impedance: 490W

Maximum applied Voltage: 24V DC

Maximum drive current: 50mA DC

Operating temperature and humidity

0℃ to 60℃, below 95% R.H.

Storage temperature and humidity

-10℃ to 60℃, below 70% R.H.

Power supply

Four 1.5V LR-6/AA size batteries, AC adapter

Battery life

Approx. 8 hour

Dimensions

165mm(L)×93mm(W)×75mm(T) , (6.5"L×3.7"W×3"T)

Weight

Approx. 380g (13.4oz)

Accessories

Instruction manual, Battery, AC adaptor DC6V, (CD software & Micro-USB cable) (5322)
Dust particle, Oil chemical factory, Steel manufacturing, Coal fired power plant, Motor vehicle emissions, Boiler atmosphere pollutant, Lampblack pollution of urban food and beverages, Smoking, The burning of garbage contributes to air pollution.and PM2.5 air pollution is monitored