Clamp Meter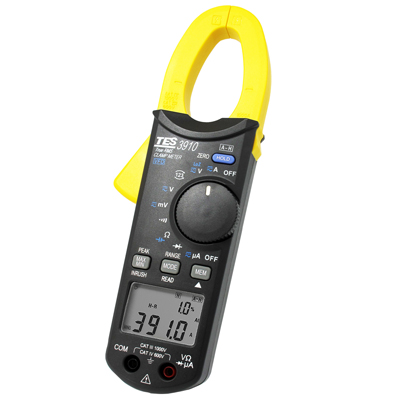 TES-3910
Trms Clamp Meter (DC/AC 1000A)
Product Features
Capacitance measurement 1000µF
Variable-frequency drive (VFD) V & Hz measurement.
Lo-Z voltage measurement to drain ghost voltages.
Check 3Φ phase sequence.
True RMS reading on AC and DC+AC mode.
Inrush current measurement.
A measurement for HVAC flame sensors.
mV measurement range to interface with other accessories.
Crest Factor & Harmonic ratio measurement.
Data hold, Auto hold & Peak hold mode.
Max/Min/Avg record mode.
Data memory & read function.
ELECTRICAL SPECIFICATIONS (23℃±5℃)
AC Current (40Hz to 400Hz) : VFD Trms
Range

Resolution

Accuracy

Sensitivity

Overload Protection

99.99A

10mA

±

2%

±

20dgts (50, 60Hz)

±

4%

±

20dgts (40~400Hz)

>0.25A

1000A

AC

999.9A

100mA

>2.5A
DC Current :
Range

Resolution

Accuracy

Sensitivity

Overload Protection

99.99A

10mA

±

2%

±

20dgts

>0.25A

1000A

999.9A

100mA

>2.5A
ACA Inrush Current : VFD Trms
| | | | | |
| --- | --- | --- | --- | --- |
| Range | Resolution | Sensitivity | Measurement Time | Overload Protection |
| 99.99A | 0.01A | >5A | 100mS | 1000AAC |
DCμA : (Burden Voltage : 3.6mV/µA)
Range

Resolution

Accuracy

Sensitivity

Overload Protection

99.99μ

A

10nA

±

1

%

±

20dgts

>0.30µA

1000V

999.9μ

A

100nA

>3.0µA
ACmA : VFD Trms (Burden Voltage : 3.6mV/µA)
Range

Resolution

Accuracy

Sensitivity

Overload Protection

99.99

m

A

10nA

±

1%

±

10dgts (50, 60Hz)

±

2%

±

10dgts (40~400Hz)

>0.30µA

1000V

999.9

m

A

100nA

>3.0µA
AC Voltage (40Hz to 400Hz) : VFD Trms
Range

Resolution

Accuracy

Sensitivity

Overload Protection

999.9mV

0.1mV

±

1%

±

10dgts (50, 60Hz)

±

2%

±

10dgts (40~400Hz)

40 ~ 300Hz on mV range

>2mV

1000V

(LoZ: 600V

1 minute)

9.999V

1mV

>20mV

99.99V

10mV

>200mV

999.9

V

100mV

>2V
DC Voltage
Range

Resolution

Accuracy

Sensitivity

Overload Protection

999.9mV

0.1mV

±

1%

±

10dgts

>2mV

1000V

(LoZ: 600V

1 minute)

9.999V

1mV

>20mV

99.99V

10mV

>200mV

999.9

V

100mV

>2V
Resistance (Continuity<40Ω on the

range) :
Range

Resolution

Accuracy

Overload Protection

999.9Ω

100m

Ω

±

1%

±

10

dgts

1000V

9.999K

Ω

1

Ω

99.99K

Ω

10

Ω

999.9K

Ω

100

Ω
3Φ Phase sequence indication :
| | | |
| --- | --- | --- |
| Range | Frequency Response | Overload Protection |
| 80V to 480V | 50Hz / 60Hz | 1000V |
Diode (Continuity<40mV) :
Range

Resolution

Accuracy

Overload Protection

3.000V

1mV

±

1

%

±

10

dgt

1000V
Frequency :
Range

Resolution

Accuracy

Sensitivity

40Hz/1KHz

0.1Hz

±

0.5%rdg

±

2

dgts

V > 5% range

μ

A, A > 30%
Capacitance:
Range

Resolution

Accuracy

Overload Protection

1.000μ

F

1nF

±

1.5%

±

5dgts

1000V

10.00μ

F

10nF

100.0μ

F

100nF

1000μ

F

1μ

F
GENERAL SPECIFICATIONS :
Accessories : Instruction Manual, Battery, Carrying case & Test Lead
Weight/Size : 236(L)x80(W)x39(T)mm/332g
Max Wire Diameter : 33mm
Category : CAT III 1000V, CAT IV 600V