Sound Level Meter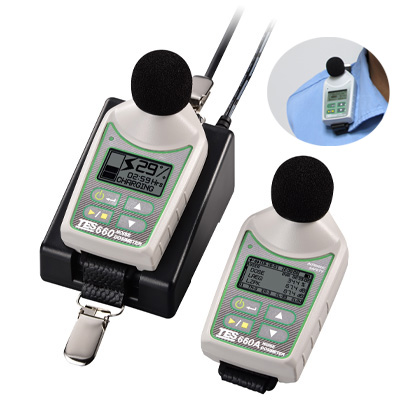 TES-660A /TES-660
Micro Noise Dosimeter (Badge Type)
Product Features
No Mic. Extension Cable required.
Lightweight and small size
Rechargeable battery
Calculates all the popular noise dose parameters  Wide dynamic range from 70 to a full 140dB
Measures simultaneously 3dB, 4dB, 5dB or 6dB exchange rates
Intrinsically safe (660A)
ANSI S1.25: 1992 Personal Noise Dosimeter

IEC 61252: 2002 Personal Sound Exposure Meters

Intrinsic safety (660A): EN 60079-0: 2006, EN60079-11: 2007,

1/2-inch electret field replaceable threaded microphone

128x64 pixel graphics LCD

Dynamic

Range

: 70dB to 140dB

Peak

Range

: 103dB to 143dB

LED showing level noise exceedances during run

Real–time clock with calendar.

Results from 30 measurements can be stored for later viewing and download.

Measurement Duration: May be set 10 to 55 min in 5min steps or 1 to 24 Hrs in 1hr steps.

Up to 99 timers (automatic start and stop) can be set (maximum up to one month ahead of measurement time).

Timer Controlled Started / Stop: Up to 16 timers can be set up from the PC software or meter keypad.

Logging storage (results)

At least 100 hours at 4 profiles every minute with unit showing remaining memory recording time in hours when switched on.

1, 5, 10, 30minutes and 1or 2 hours can be set

Ten built–in (predefined) default setups are included.

Nine additional user–defined setups can be stored.

Charging unit

/ PC interface

Complete meter fits neatly into the charging unit (DS-01).

Quick battery recharge in less than 90 mins from completely empty.

Communications via the charging unit (DS-01) and USB to PC.

Operating / Storage Temperature & Humidity

0 to 50

º

C (32 to 122

º

F

),10 to 90%RH / -10 to 60

º

C (14 to 140

º

F),

84(L)×49(W)×55(H)mm / 3.3(L)×1.9(W)×2.2(H)inch (with windscreen)

Approx. 77g (2.7oz), less mounting device

Instruction manual, Carrying case, Charging unit (DS-01), AC adapter for DS-01 (up to 4 linked DS-01), CD software, USB cable.
The 660A Intrinsically Safe is labeled with the following:

EEx ia IIC T2 (222°C)

(Ta = -20°C to +40°C)

Temperature classification T2