Clamp Meter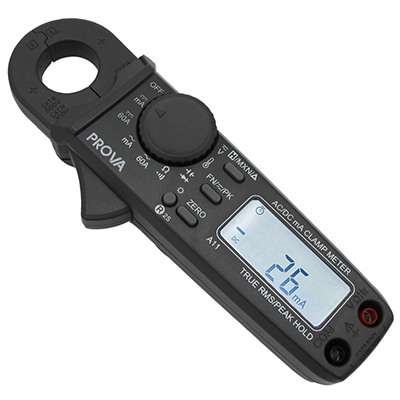 PROVA - A11
mA AC/DC Clamp Meter
Product Features
Very high resolution DC 1mA, AC 0.1mA.
AC/DC (mA, A) current measurement: 6A / 60A.
AC/DC (V) voltage measurement: 60V / 600V.
AC current measurement: TRMS.
Resistance, Continuity, Capacitance, Diode and Temperature (℃/℉) measurement.
Voltage/Current Peak value measurement.
6000 counts
Auto and Manual ranges for AC mA, AC/DC V, Resistance and Capacitance.
One Touch Zero for DCA adjustment.
25mm large jaw diameter.
Auto-power-off function (30 min.) and Backlight.
Delta ( ) functions w.r.t. hold value.
Dual display: Hold + Ave, Max + Min,ΔMax +ΔMin.
Dual display (peak hold): Hold + Ave, Peak Max + Peak Min,ΔPeak Max +ΔPeak Min.
Low Pass Filter (LPF, 1KHz, -3dB) (e.g. for VFD measurement)
600V overload protection for Resistance and Capacitance measurement.
Ideal for works in crowded switch box or cable areas.
Electrical Specifications: (23℃±5℃)
DC Current
Range 60A Peak MAX ±100A Accuracy + (±2%±50dgts)
AC Current (True RMS, Crest Factor < 3)
DC Voltage (Overload Protection AC 600V)
DCV Peak MAX ±600V Accuracy + (±2%±50dgts)
AC Voltage (True RMS, Input Impedance 10 MΩ)
ACV Peak MAX ±850V Accuracy + (±2%±50dgts)
Continuity (Open voltage 0.4V, Overload protection AC 600V)
| | | | |
| --- | --- | --- | --- |
| Range | Resolution | Accuracy | Beeping |
| 600Ω | 0.1Ω | ±1.0%±2dgts | <30.0Ω (approx.) |
Resistance (Ω) (Open voltage 0.4V)
Temperature (for using K-Type thermocouples, ℃ or ℉)
Capacitance
Diode Test
General Specifications: Indoor Use
Conductor Size: 25mm max. (approx.)
Battery Type: two 1.5V SUM-3
Display: 6000 counts
Range Selection: Auto and Manual
Overload Indication: OL
Power Consumption: 17 mA (approx.)
Low battery Indication:

Sampling Time: 2 times/sec.
Auto-power-off: 30 minutes
Operating Temperature: 0°C to 50°C
Operating Humidity: less than 85% relative
Altitude: up to 2000M
Storage Temperature: -20°C to 60°C
Storage Humidity: less than 75% relative
Dimension: 191mm (L) x 66mm (W) x 36mm (H)
7.5" (L) x 2.6" (W) x 1.45" (H)
Weight: 250g (battery included)
Accessories:
Carrying bag x 1
Test leads x 1
K-type thermocoupl
es x 1
Adapter (for Capacitance and K-type thermocouples) x 1