CO/ CO₂ Meter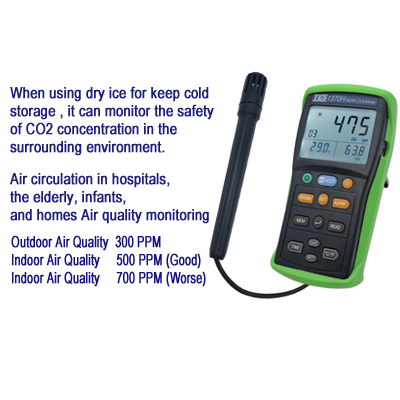 TES-1370H
CO2 METER+ Temp./RH%
Product Features
Lithium battery can continuously measure for more than 8 hours.
CO2: 0 ~ 6,000 ppm range, Diffusion sampling mode
Three LCD Display for CO2 , %RH Humidity and
Air Temperature
Maintenance free dual wavelength NDIR infrared
CO2 sensor (non-dispersive infrared)
Continuous or manual data logging (16,000 sets)
Data hold & Maximum / Minimum with Time stamp
Data Memory and READ function
Alarm and Time setting
USB function / Software
Backlight display function
Use rechargeable Lithium-Ion battery pack
Simple and safe to use
CO2 : 0~ 6,000 ppm

Temperature : -20°C ~ 60°C

(-4°F ~ 140°F)

CO2 :1ppm

CO2 : ±3% of reading or ±50ppm, which is greater.

Humidity : ±3%RH (at 25°C, 20 to 80%RH)

±4%RH (at 25°C, 10 to 20%RH and 80 to 90%RH)

±5%RH (at 25°C, 0 to 10%RH and 90 to 100%RH)

Temperature : ±0.4°C(at +5°C to +60°C)

±0.8°C(at -20°C to 5°C and +60°C to +80°C)

±0.8°F(at +41°F to +140°F)

±1.6°F(at -4°F to 41°F and +140°F to +176°F)

Manual Data Memory Capacity

99 sets (Direct reading from LCD display)

5°C

~ 50°C (41°F ~ 122°F)

7.4V, 1150mAh rechargeable Lithium-Ion battery pack,

AC adaptor

Approx. 12 hours after full charged (without backlight or Alarm function).


For long time datalogging, please use AC adaptor.

Approx. 290g

(including batteries)

Instruction Manual, AC Adapter, Software CD Rom, RS232 to USB Cable

& Carrying case.