New Products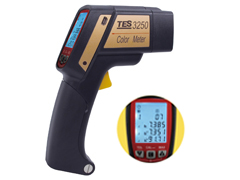 TES-3250
Large LCD Display、Easy to use
Check the color difference between two samples
Economical, Portable and easy to use
Color difference displayed Δ(L*,a*,b*), Δ(E*ab,
C*ab, H*ab), Δ(Y, x, y), Δ(X, Y, Z), Δ(Rs, Gs, Bs) or
Δ(WI, YI, Tw)
Color space displayed (L*, a*, b*), (L*, C*ab, hab),
(Y, x, y), (X, Y, Z), (Rs, Gs, Bs) or (WI, YI, Tw)
Statistical function (Maximum, Minimum, Average and
Standard Deviation)
Color difference tolerance set to perform PASS/WARN/FAIL
Store 9 color – difference target colors
User calibration function ensures higher accuracy
Auto memory (99 sets) & Read function
Auto Power off function
LCD backlight function
Mini-USB interface.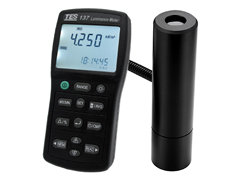 TES-137
Dual Display, 4-digit LCD reading.
Spectral Sensitivity close to CIE photopic Curve.
Measuring Levels Ranging: > 0.171 to 1999k cd/m², > 0.050 to 580.0k fL, Autoranging 7 step.
Accurate and Instant response.
Luminance ratio A/B, deviation %A, different B-A and peak luminance measurements.
User calibration factor and color-correction functions.
Accumulation luminance measurement.
Max/Min/AVG function.
Backlight LCD display.
Comparator function.
Data Hold function.
Data memory and read function.
Data logger function.
USB Interface.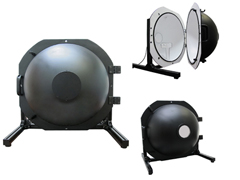 SP-500
500mm internal sphere (includes a lamp holder, baffles, and ports for photometers)
Light weight and easy move
APPLICATIONS:
As a light collector
As uniform light source
Luminance/Radiance calibration
Reflectance measurement (Color measurement Fluorescence spectroscopy)
Beam Power measurement (total power of a beam of optical radiation)
Lamp Flue measurement (total geometric luminous flux of a light source)
Laser Power measurement
IR Reflectance measurement
Irradiance measurement (Laser, LED, and Halogen lamps)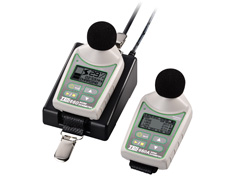 TES-660A /TES-660
No Mic. Extension Cable required.
Lightweight and small size
Rechargeable battery
Calculates all the popular noise dose parameters  Wide dynamic range from 70 to a full 140dB
Measures simultaneously 3dB, 4dB, 5dB or 6dB exchange rates
Intrinsically safe (660A)

Specification changes subject without notice.